NBA 2K12 simulation: Spurs win series 4-1 over Thunder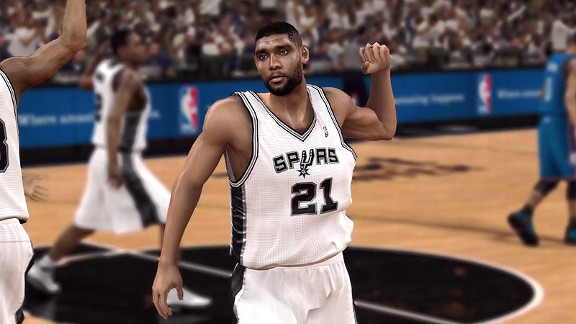 Zach McCann of ESPN.com wrote an interesting piece on the Western Conference Finals matchup between the San Antonio Spurs and Oklahoma City Thunder. McCann used a NBA2K12 simulation to predict the outcome of the series.
The result? The Spurs won the series in five games. San Antonio scored an average of 103 points while allowing 97 points to the second-ranked offense in the league.
McCann: "The veteran Spurs have stood the test of time by incorporating effective, young role players like Leonard, Green, Blair, Tiago Splitter and Gary Neal into their system. But at the end of the day, it's still Duncan that makes everything hum in San Antonio. Arguably the greatest power forward of all-time, Duncan saved his best for last, scoring 27 points and nine rebounds to send the Spurs to their fifth NBA Finals. Duncan was helped by his old pals, Ginobili (23 points, 8 rebounds) and Tony Parker (15 points, 7 assists), while Leonard chipped in with nine points, 10 rebounds and three blocks. The Thunder's time may come, but they didn't have enough this year against the San Antonio juggernaut."
And you what are your predictions?